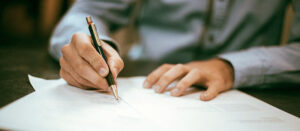 What does a sworn translator do?
The profession of a sworn translator can be compared with the job done by a forensic expert. The translator mainly translates documents which need to be certified; therefore, they require the formal declaration of compliance. Most frequently these are all sorts of contracts, attestations, notarial deeds, certificates and diplomas. The translated text must be a hundred percent compatible with the original one since the correctness of the translation is attested by the translator with their name and surname (on it?).
It is a very responsible job which requires excellent language skills. In order to perform it, one not only has to be fluent in the certain language but also needs to meet some conditions mentioned in the act.
Act on the Profession of the Sworn Translator
Among the most important conditions, listed in the Act of 25th November 2004 on the profession of the sworn translator, these need to be mentioned:
•fluency in Polish,
• full legal capacity,
• the absence of court judgement concerning the tax offence
• completion of a higher education
• successful completion of the certification exam
However, it is not necessary to meet all the above-mentioned conditions before the exam in order to take it. For example, you can pass the examination first and then complete your studies.
How does the examination look like?
The exam consists of two parts – written and oral. During the written part it is allowed to use one's own resources such as paper dictionaries and self-prepared glossaries. The candidates' task is to translate four texts: two into Polish and two into a foreign language. They have four hours to do it.
During the oral part, the candidates' task is a consecutive interpretation (the source text is read out loud or played, with breaks for interpretation) and sight interpretation (the source text is available in a written form.) During consecutive interpretation the candidates are allowed to make notes.
The legislation, which concerns the conditions, which have to be meet in order to become a sworn translator, includes a number of rules and requirements that the translator should never forget. The sworn translator is obliged to improve their professional qualification continuously, keep all the information, received in the line of their duty and circumstances of the task secret .
The responsibility only for the translation, not for the content of a document
It happens quite often that the translator has to deal with a document, which truthfulness seems doubtful. One should remember that the responsibility certified with a seal, concerns only the the translation of the text, not its content. The sworn translator is never responsible for the genuineness of the text, hence it doesn't fall into their duties.